Alright! Now that you have booked your accommodation and sorted food for a weekend in Strathalbyn, we need to chat about the wine.
Langhorne Creek is one of Australia's oldest wine grape districts. Vineyards were first planted in the 1860's at Langhorne Creek on the banks of the Bremer River. The region rests between the Adelaide Hills and Lake Alexandrina, only a one hour drive from Adelaide and just 12 minutes from the Strathalbyn township.
Renowned for its full bodied red wines, the grapes have an intense quality due to the location and unique natural influences. Cool afternoon breezes from Lake Alexandrina help to create a surprisingly cool climate, which allows for a longer, more even ripening period. This is coupled with deep, rich alluvial soil, which is deposited by the unique annual flooding of the Bremer River.
Langhorne Creek has always been a grape growing district with a group of old families who have been producing grapes for generations on the Bremer's edge. It wasn't until the 1990's that the district experienced rapid expansion.
There were fewer than 1,100 acres of established vines in 1991, which today has grown to more than 12,000 acres. Expansion from these humble beginnings has been possible due to the utilisation of the nearby Lake Alexandrina and its fresh water.
Four local wineries will be featured at the Langhorne Creek Vignerons Race Day for the Strathalbyn Racing Club this Sunday. Bremerton, Bleasdale, Gipsie Jack and Lake Breeze offering a pop-up cellar door experience on the day. Tickets are still available for Sunday's meeting via Moshtix.
Bremerton Wines – bremerton.com.au
From selling 57 dozen bottles of wine with grapes purchased for their neighbor, Bremerton Wines is now situated across 120ha of vineyards, producing between 34,000 – 40,000 dozen a year. For the past 11 years, the Willson Sisters (Rebecca and Lucy) have seen Bremerton Wines awarded the James Halliday 5 star rated winery, ranking in the top 5% of Australian Wineries.
The recently renovated Cellar Door compliments the original barn building and provides a great lawned area for families to relax and enjoy.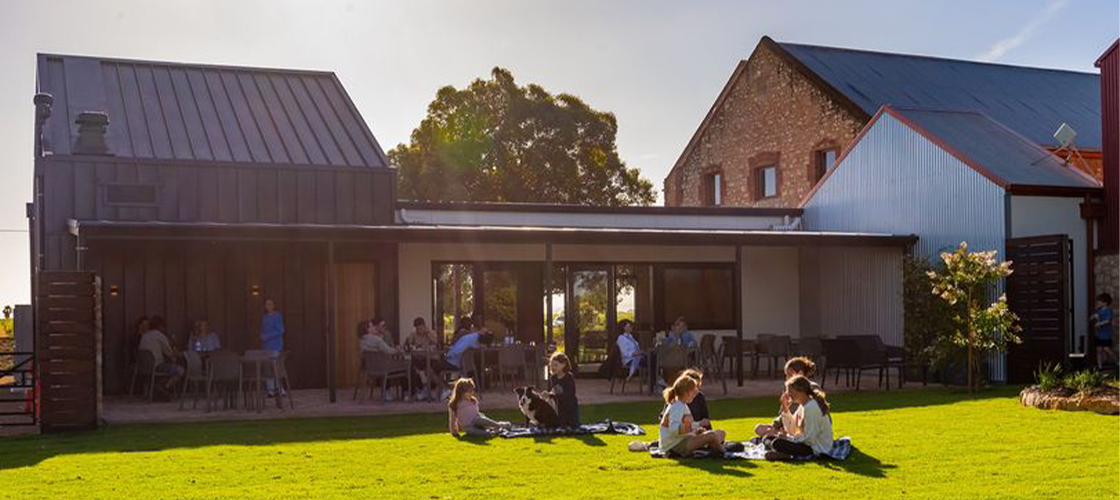 (Image courtesy of Bremerton Wines website)
Bleasdale – bleasdale.com.au
Establish in 1850, Bleasdale is a multi-award winning winery across three generations. As one of the oldest wineries in Australia, Bleasdale is known for producing premium wines from both their Langhorne Creek location as well as varietals with the Adelaide Hills.
Visit the new cellar door to experience firsthand the story of Bleasdale, taste our award-winning wines, and walk through the oldest section of the winery where you will see original hand-hewn red gum vats and our famous Old Press built in 1892.
Robbie Potts, hosts "Punting with Pottsy", a luncheon with wine pairing held at the Vignerons Race Day.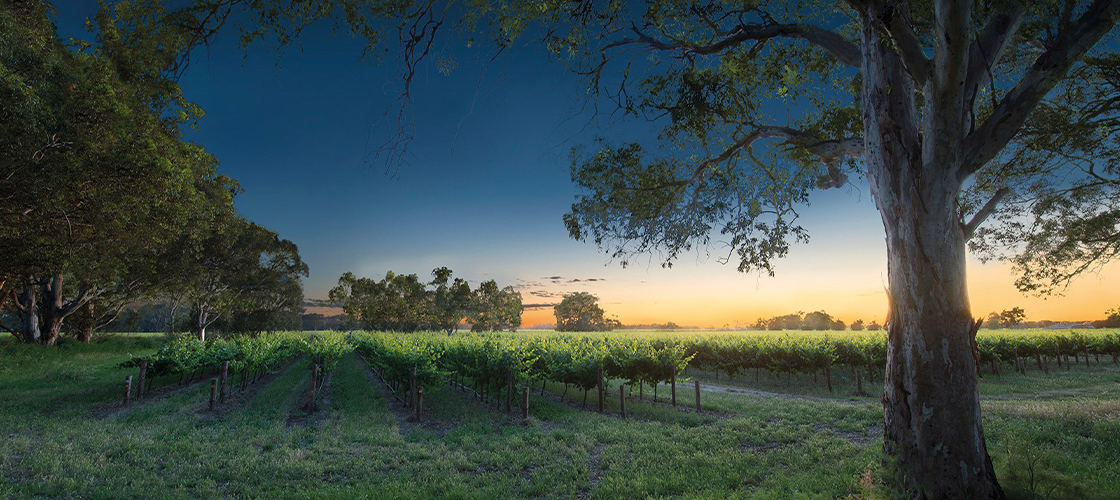 (Image courtesy of Bleasdale website)
Lakebreeze Wines – lakebreeze.com.au
Another winery with a strong history within the Langhorne Creek Wine Region, Lakebreeze have been producing wines for over 130 years. comes alive each year in November with their Handpicked Festival showcasing local food and their own wine, which boasts a collective 160 gold medals.
The recently completed function space, 'The Barrel Room', features floor to ceiling glass overlooking the picturesque vineyard. The locally sourced limestone, natural timbers and walls lined with wine barrels, creates a comfortable and versatile function space. Lake Breeze has become a vibrant location for not only concerts, but weddings and events.
Named 2022 Halliday Best Value Winery of the Year. The award is great recognition for the hard work of the entire Follett family and staff over the year.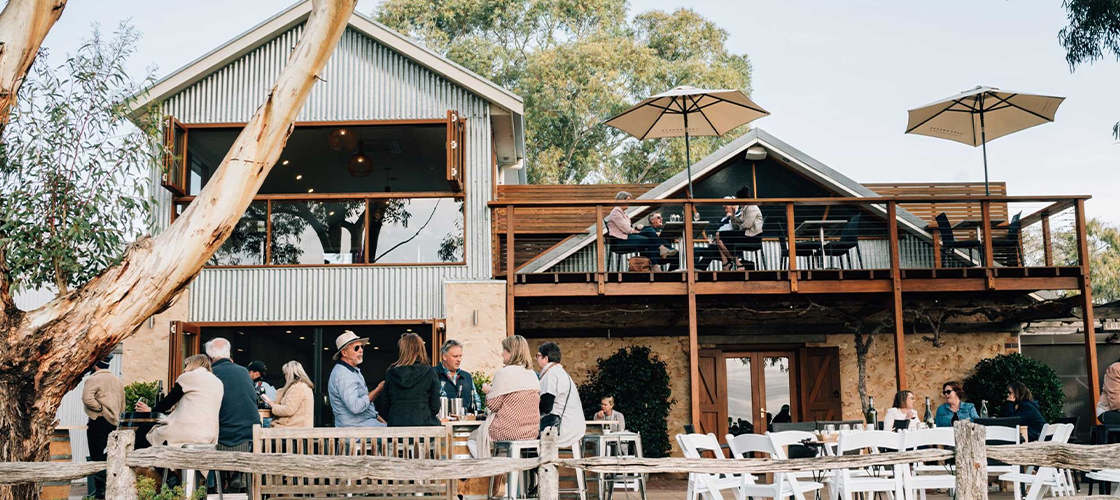 (Image courtesy of Lakebreeze Wines Facebook)
Gipsie Jack - thewinehouse.com.au/gipsie-jack
Great mates and mans best friend are the foundation of Gipsie Jack.
Gipsie Jack Wines is a partnership between two long time Australian winemaking families, the Glaetzer and Potts families. The wines are made by John Glaetzer and Ben Potts, with Ben's father Bill Potts being the Viticulturalist for a lot of the fruit that the wines are made from. Gipsie Jack named after John's Jack Russell, Gipsie.
Gipsie Jack can be found at The Winehouse in Langhorne Creek.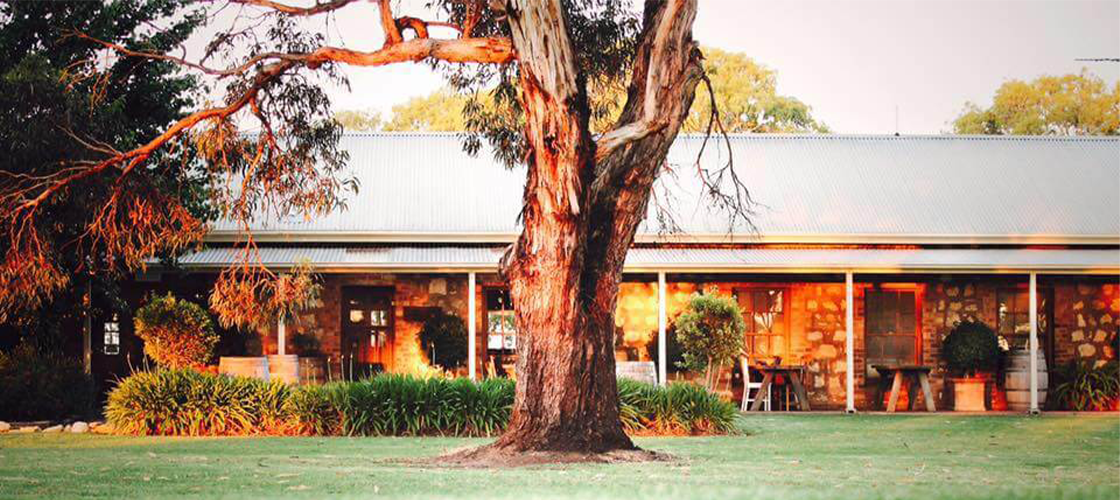 (Image courtesy of The Winehouse website)
With 11 wineries in the region, there is an opportunity to pick up a bottle or two after sampling each wine to find your favourite.
You don't need to transport yourself from winery to winery for the day, with a couple of options available.
Creek Cruiser – the team offer transport options for up to 11 or as little as two people.
South Coast Wine Train – something outside of the box, would be to jump on the train and take in some of the amazing Fleurieu Peninsula sights, with stops at wineries along the way.
Juggle House - offer a wine tour through the Langhorne Creek wine region