Oakbank Racing Club
Welcome to the Oakbank Racing Club. We have a rich history in the Adelaide Hills. Our club was established in 1875 and boasts one of the world's largest picnic race meets, the Easter Racing Carnival, which has historically been held on Easter Saturday and Monday
Our feature Easter Racing Carnival will again comprise two separate race days in 2024, being on Saturday March 30 and Monday April 1. We will have many Camping and opportunities to come and join us for your Easter weekend.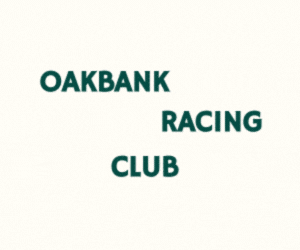 Oakbank Christmas Party at the Races - FRIDAY 22nd December
Our annual Christmas Party at the Races is on again and we look forward to having you and your workmates, family or friends come and join us.
Just when you though the party will stop - Enjoy the 'partyband' JUNGLE JOOCE for an after the last concert to rock your socks off aswell.
TWILIGHT Racing from 2:30pm and after race entertainment to bring in the Christmas Weekend. It promises to be a great event so start planning and be ready for our ticket and package launch very soon.
Hospitality packages are still available! Download the Booking Form here.
or head to our Ticket Page and purchase direct online at - CHRISTMAS PARTY AT THE RACES TICKETS
Free Entry for u18s

CAMPING AT EASTER - Join us on site overlooking the iconic race course sitting around a fire enjoying your Easter with family and friends. Many campsite options available:
Click here to purchase - 2024 Easter Camping
Campsite includes:
- 10m x 10m Site
- Fire Bucket to enjoy comfort fire
- Access to Showers/Bathroom facilities
- 2 x Weekend Event Passes
All campers will need to purchase Raceday passes, U18 Free.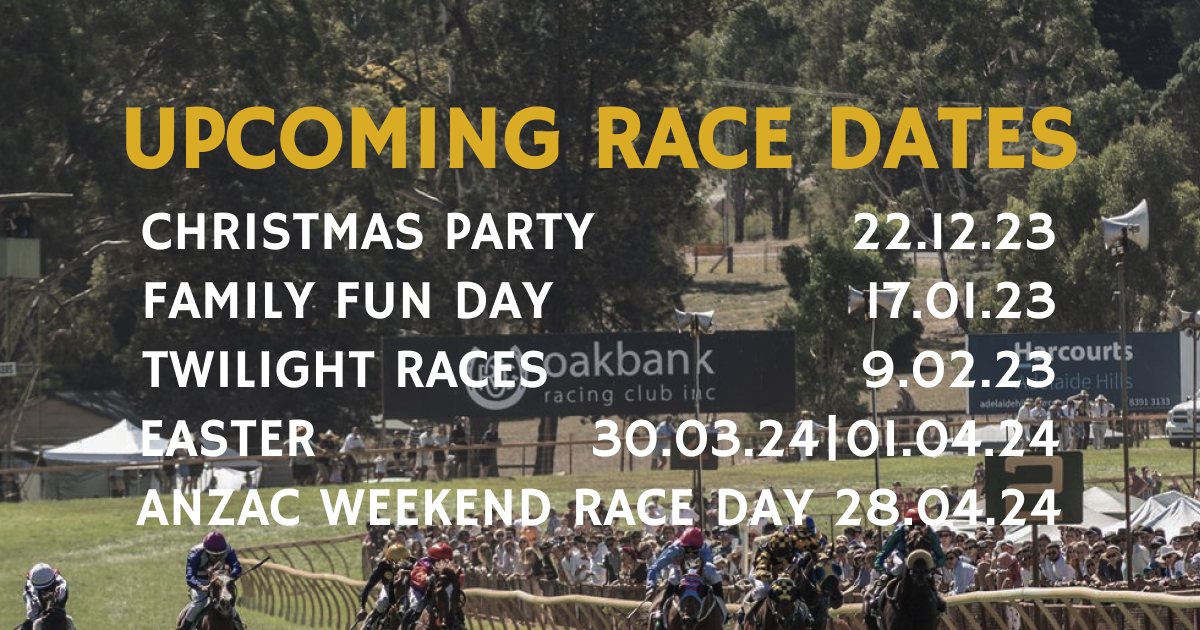 2023/24 RACEDATES
Friday December 22nd - Christmas Party at the Races Twilight Meeting
Wednesday January 17th - Family Fun Day
Friday February 9th - Friday Twilight Racing
Saturday March 30th - EASTER SATURDAY
Monday April 1st - EASTER MONDAY
Sunday April 28th - Anzac Weekend Racing
Racing History
The first horse to win the Great Eastern Steeplechase around the undulating hills course was Tormentor in 1876. There are photographs and memorabilia of the win around the club.
Many great horses have followed Tormentor's success on the 4.9km course over the years, including Darkie (1877 and 1878), Trigger (1881 and 1884), Swordfish (1885 and 1887), Vanguard (1912 and 1914), Tramp (1913 and 1915), Mount Cooper (1926 and 1927), Club Spirit (1972 and 1974) and Light Hand (1995 and 1996).
Oakbank has also played host to some of the best riders in the country, including Laurie Meenan, Alex Fullarton, Jamie Evans, Mick Patton, Brian Robert Smith, Pug McKenzie, Bluey Armsden, Don Wraight, Tom Glennon, and James Scobie who have all etched their names to the Great Eastern honour roll.
Our Committee
| | |
| --- | --- |
| Chairperson | Arabella Branson |
| Deputy Chairperson | Barney Gask |
| Committee Members | John Hatch |
| | Chris Dittmar |
| | Andrew Watson |
| | Jody Fitzgerald |
| | James Jordan |
| | John Levy |
| | |
Annual Report
To view a copy of the 2020/21 Oakbank Racing Club Annual Report click here
To view a copy of the 2020/21 Oakbank Racing Club Financial Statements click here
For previous Annual Reports, please email reception@oakbankracingclub.com.au
Oakbank Racing Club Track