Clare Valley
Welcome to the Clare Valley Racing Club
The rolling country side of the Clare Valley is a patchwork of vineyards, farming land and quaint villages which collectively produces outstanding wines, excellent accommodation and good honest food.
Favoured by wine lovers, the Clare Valley is a place made for romance with its collection of beautiful B&Bs, the Riesling Trail for strolling or cycling, gourmet delights and some of Australia's best wineries.
Located just one and a half hours drive north of Adelaide the Clare Valley is an idyllic setting for country racing with people travelling from far and wide to attend its annual Easter Races.
Clare Valley Racing Club Merchandise
Get in with the crowd at Clare Valley Races and purchase from our quality range of caps, Madrid style hat and essential stubby holder!
Price includes postage and handling (click on the image below to purchase)
Further details contact 08 8842 1033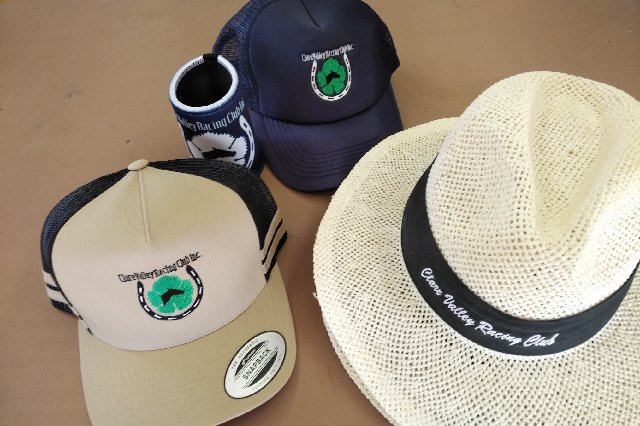 Tourism
The Clare Valley is renowned for its world class wines – in particular Riesling. With quaint bed and breakfast accommodation and welcoming cellar doors sprinkled throughout the Valley, it's a gourmand's dream holiday destination.
The Riesling Trail is a popular activity for visitors wanting to explore the Valley's exceptional wineries by bike.
The Valley comes to life each May for the annual Clare Gourmet Weekend and the streets are buzzing with visitors every Easter for the much loved Easter Races.
To find out more about what to see and do in Clare, visit the South Australia Tourism Commission website.
The Clare Area
The town of Clare is situated at the narrowing northern end of a valley named after the town and is approximately 140 kilometres by road (or roughly two hours drive), north of the Adelaide GPO.
Clare is the sole significantly large town (by SA standards) within the Clare & Gilbert Valleys Councilboundaries, which encompasses an area of approximately 390 square kilometres carrying a population of nearly 9000. It, along with 12 smaller townships and settlements, carries the bulk of the population in a region largely economically dependent upon and agricultural and viticultural pursuits. 28% of the residents are under the age of 20, while 30 to 50 year olds account for a like number. Retirees (65 years plus) total 1330 (16%).
About the Clare Valley Racing Club
The Clare Valley Racing Club Inc has a long history.
According to minutes a meeting was held on Nov 1st 1888 to form a club with a view to operate a horse race and sports day on New Year's Day 1889. On the 27th November 1889 Mr Blekeney Carter was appointed as honorary Secretary of the newly formed Clare Racing Club.
The club was more formally incorporated as the Clare Racing Club in 1895 and Mr TP Gillen was appointed secretary and served until 1929, a term of 35 years for which he was awarded Life Membership.
The club aims to encourage and support the thoroughbred racing industry by conducting meetings that will provide opportunities for participants, patrons and the local community.
Track is reasonably tight with an uphill climb to the home turn, and generally favours front runners or those near the lead. The course is fully irrigated and well grassed.
We offer three meetings per year all TAB covered, with a field limit of 12 horses for all starts.
Clare Valley Racing Club 2022/23 Committee
| | |
| --- | --- |
| Chairperson | Jeff Weckert |
| Deputy Chairperson | Garth Heron |
| Club Secretary/Event Manager | Peter Darwin (Ex-officio) |
| Committee | Tanya Bertelsmeier |
| | Brett Bertelsmeier |
| | Tim Edwards |
| | John Sobieray |
| | Abbey McKee |
| | Gail Weckert |
| | Annette Heron |
| | Jess Burns |
Clare Valley Racing Club Track