There is nothing better than emerging from the chilly depths of Winter and dusting off those fabulous dormant outfits in preparation for a fun day at the track. Although the pandemic continues there is much joy to be had in ditching those daggy 'work from home' sweatpants and elevating your fashion aesthetic with colourful combos and funky accessories.
Melissa Barnes, 2019 Face of The Balaklava Cup and 2020 Judge takes a look at some of the trackside trends we could see this Spring.
Voluminous details
Will follow through from last season into this year so restyle an old outfit or invest in something new and striking. More fabric is more so think abstract shapes and draping, big puffy sleeves, wide leg pants, large fabric bows and dramatic yet feminine silhouettes.
Metallics
Usually better suited for the night club dance floor but with skillful styling these shiny fabrics can pack a punch on the FOTF stage. Be careful not to go too overboard with sequins on every part of your outfit. Pair something sparkly with sleek millinery and minimalistic accessories for a classy look that doesn't make you feel like a spinning disco ball.
Longer lengths
Are not only practical for the unpredictable Spring weather they also comfortable to wear because who wants to be pulling down their dress all day long? Hitting the floor with your hemline is not just limited to dresses as we see the gender neutral fashion trend rise in popularity with more pants and suits making a statement on the FATR stage.
Pretty pastels
A trend that continues to dominate into the warmer months with sorbet shades and zesty citrus tones popping up on the runway. Soft lavender, lemon yellow and cool mints are perfect for a sunny day and also suit many skin types. Mix and match these shades together or create an eye catching colour pop by pairing them with crisp white accessories.
Prints
An instant mood booster simply because they are so much FUN to wear and to look at! Florals are a staple on the FATR stage but the choices are endless. Be sure to try on your options ahead of time to see what works for your style, blooms that are bold and punchy can turn heads but sweet and demure blossoms are elegant. Millinery can be matchy-matching with leather flowers and colourful accents or opt for complimenting colours if you want the print to be the standout 'hero' of the outfit.
Melissa Barnes Bio
Melissa Barnes was the 2019 Face of the Balaklava Cup and a FATR judge last year, is no stranger to judging and competing in FATR around South Australia and interstate. She proudly represented SA as the state finalist for the coveted Myer FATR competition held during the Spring Racing Carnival at Flemington. Melissa was the SA 'Fashion at the Races' runner up two years in a row with multiple FATR wins under her belt from the Adelaide Cup and other regional race days across the state.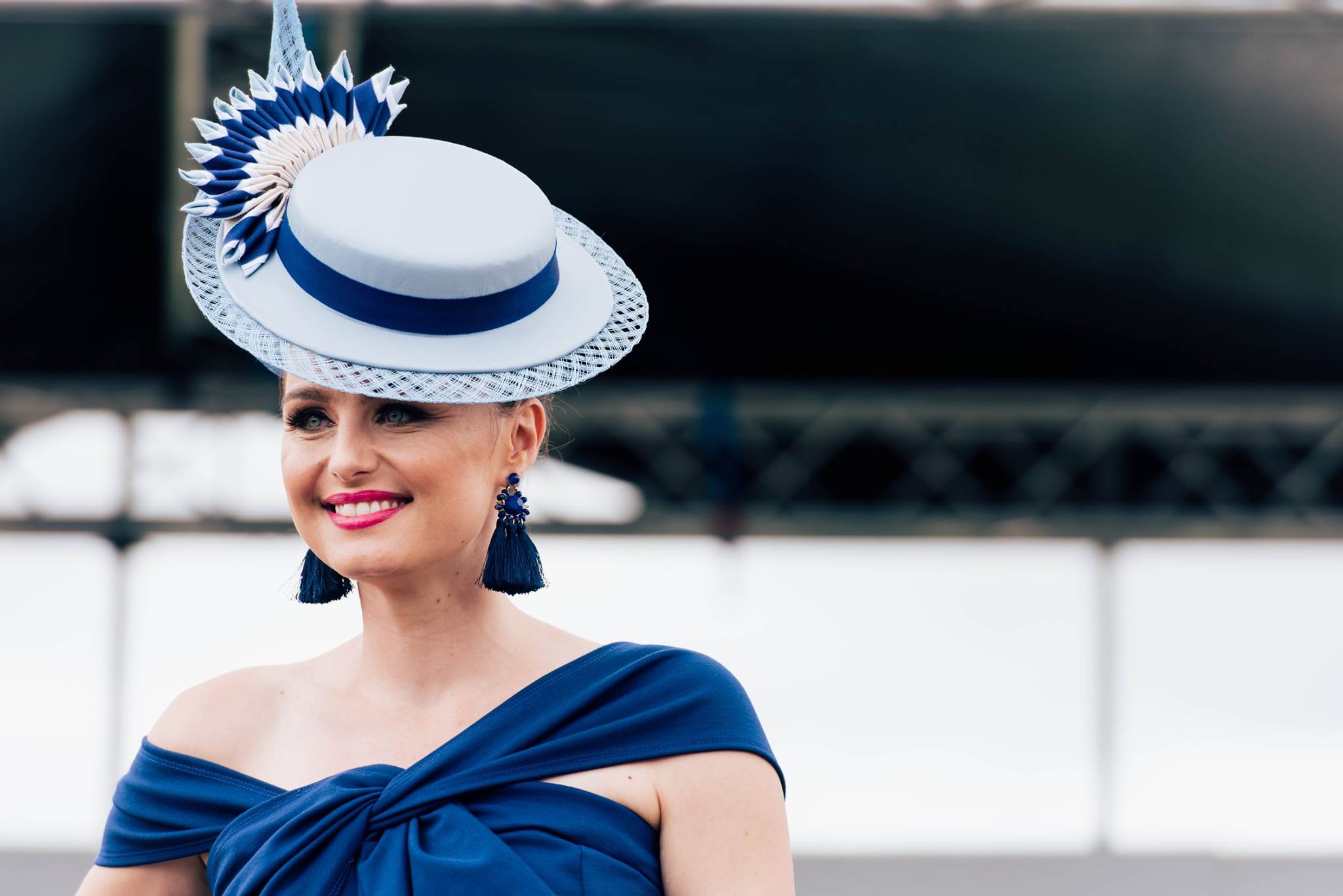 As a busy mum of 4 boys Melissa has enjoyed taking a back seat to outfit planning for herself and now helps others complete their race day looks through her Designer Bag and Millinery hire business, Adorn Collection.
"My passion for FATR started when I won at the Darwin Cup in 2012 wearing a headpiece I made myself. Back then I didn't really know anything about racing fashion or designer handbags but now I am a bit obsessed".
Melissa's advice for those thinking about entering FATR at Balaklava is to just give it a go.
"It's always a bit nerve wracking so just get up on stage and smile. Wear what you love and make sure you are comfortable. DON'T just dress for the judges but DO make sure your outfit is appropriate for the weather and millinery is a must!
"Your outfit should reflect what you enjoy about current fashion trends and be an expression of your own personal style. Don't be afraid to think a little bit outside the square.
"Less is more sometimes so check that your whole outfit is balanced. Remember that the races are not a night club so keep it classy."
The Balaklava Cup will be held on Wednesday, September 15th. Contact the Club for further information on tickets and the Cup Day.